Advance U Student Internship Program
The Advance U program is designed to introduce undergraduate and recently graduated students to advancement as a profession. Interested students should have a general interest in philanthropy and its impact on society.

How the Program Works
Interns entering Advance U will be matched with a host department in University Advancement (UA) that aligns with their area of interest. During the program, which runs from late May through early August, students will work on and complete a special project related to their learning goals. At the end of Advance U, interns will present their project to UA staff.
Interns are paid for a 40-hour work week and will spend Monday – Thursday in their assigned host department. Friday is seminar day and an opportunity to build community, participate in group activities, and learn from guest speakers. Students will also have a chance to attend UA special events and off-site learning excursions.
Knowledge and Skills Gained
Through Advance U students will:
Gain a broad understanding of institutional advancement through their work with a department involved in or supporting fundraising or alumni engagement.
Develop a deeper understanding of who they aspire to be professionally and how to grow into that role through peer-to-peer coaching and interaction with senior leadership.
Achieve an appreciation for diversity and inclusion, leadership development, communication skills, and teamwork.
Enjoy a close-knit and supportive community of fellow interns learning about philanthropy.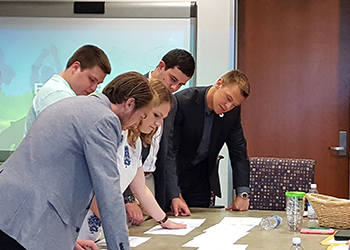 Advance U interns prepare for their final presentation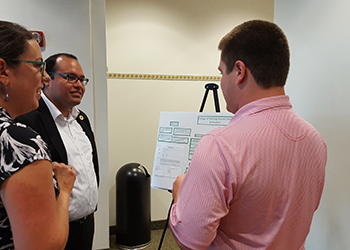 An Advance U intern discusses his project with University Advancement staff
What Advance U Participants Have to Say
"I would have to say the best experience was my first visit with a donor and the passion and memories they have at MSU and how they want to leave a legacy. I think the memory of that meeting will stay with me for the rest of my development career." – Garrett, 2017 intern
"[Our intern's] project exceeded our expectations resulting in feedback and suggested changes that we will be implementing in the next few months." – Corey, 2017 host department supervisor
How to Learn More or Apply
To learn more about Advance U, contact Cindy Hales, program director, at halescin@msu.edu. Or, if you're ready to apply, visit MSU Career Services Handshake to fill out and submit an application.