Advance-U Summer Internship Program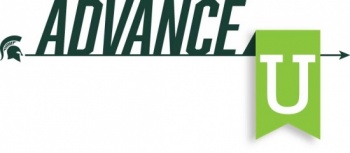 The Advance-U program is designed to introduce students to advancement as a profession. Ideal candidates are hard-working students interested in exploring a career in nonprofit, higher education or advancement.
How the Program Works
Advance-U interns are matched with a host department in University Advancement (UA) that aligns with their area of interest. During the program, which runs from mid-May through early August, students work on and complete a special project related to their learning goals. At the end of Advance-U, interns present their work to University Advancement staff.
Interns are paid for a 36-hour workweek and spend Monday–Thursday in their assigned host department. Friday is seminar day and an opportunity to build community, participate in group activities and learn from guest speakers. Students also attend UA special events and off-site learning experiences.
Knowledge and Skills Gained
Through Advance-U students will:
Learn about the field of institutional advancement, nonprofit and higher education fundraising and engagement.
Experience a broad perspective of the functions that make up University Advancement.
Develop a deeper understanding of professional goals and how to achieve them through peer-to-peer coaching and interaction with senior leadership.
Achieve an appreciation for diversity, leadership development, communication skills and teamwork.
Create a project that helps improve MSU, while enhancing their résumé and getting a jump on their career.
Enjoy a supportive cohort of fellow interns collaboratively learning about career opportunities.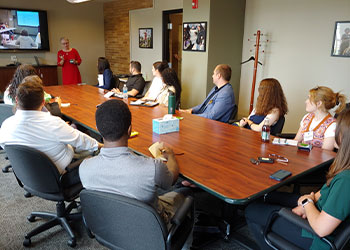 Advance-U interns visit Capitol Region Community Foundation for the Philanthropy in the Community field trip day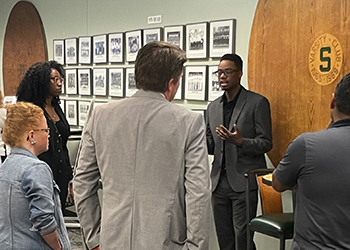 An Advance-U intern discusses his project with University Advancement staff
How to Learn More or Apply
To learn more about Advance-U, contact Trajan Dubiel, program director, at dubieltr@msu.edu or Josie Wright at seykotaj@msu.edu. If you're ready to apply, visit MSU Career Services Handshake to fill out and submit an application. Applications open in October.
What Advance-U Participants Have to Say
Previous Interns
"The Advance-U internship was the best way I could've spent my summer. The people I met and the skills I developed prepared me for whatever career I choose to pursue." — Annie Garcia, 2023 Advance-U Intern
"My experience at University Advancement provided me with the opportunity to discover what it was like to work in a truly professional setting. I would not be able to face new challenges with an open mind if it were not for this experience. The opportunity to network, receive professional comments, and enhance my writing abilities has taken me to the next level in my educational and professional career." — Claire Drake, 2022 Advance-U Intern
"Advance-U gave me a variety of experiences which has enhanced my professional experience immensely. I gained knowledge which I can apply to everyday life and in future professional spaces. It was an experience I will never forget, and I am grateful for being a part of such a wonderful group of people." — Catherine Karbon, 2022 Advance-U Intern
"[Advance-U] was an incredibly valuable opportunity! From hands-on experience at each of our locations, to the Friday seminar sessions, to getting the opportunity to attend and volunteer at events, this summer was well-spent and filled with valuable information." — Marlee Guilford, 2019 Advance-U Intern
"Beyond gaining an appreciation of a large-scale, non-profit organization and its inner-workings, Advance-U also grants you an understanding for such business and provides the professional skills to tap into that understanding. Plus, 'There's free food.'" — Andrew Duris, 2019 Advance-U Intern
Hosts
"This was my first year working with an Advance-U intern. It was a surprisingly rewarding experience to introduce a soon-to-be-in-the-workforce student to real life work projects. Hopefully, our student intern walked away with some new skills that will carry them into their careers. — Mary Kay Hauck, 2022 Host, Communications Manager, University Advancement
"The Advance-U internship program was a huge asset to our unit. Our intern, who is now a permanent student employee, has a willingness to learn and is a key player on our team." — Marco Schimizzi, 2019 Host, Communications & Donor Relations Coordinator at MSU College of Nursing
"Advance-U is a very unique way to introduce MSU students to careers that they may have never considered otherwise and to help them prepare for their life after graduation. I've had the great fortune of supervising and mentoring students enrolled in the program and have seen firsthand how impactful this experience can be for their learning and professional growth. I highly encourage others within Advancement to get involved!" — Dave Isbell, 2018/2019 Host, Assistant Director of MSU Alumni Professional Enrichment